AMAZINGLY SIMPLE WINE OPENER
Regular price
$18.89
Sale price
$36.89
Tax included.
Description:
Want the easiest way to open any bottle of wine?
Ever get frustrated when the cork breaks in half or even worse the corkscrew breaks off into the cork?
Ooo and my personal favorite, how much do you love it when you take a nice big swig from your glass and instead of enjoying your wine you are stuck picking tiny little bits of cork off your tongue for what seems like hours?
We just want to enjoy some stress-relieving wine after all!!
If only you could just enjoy your wine in peace, cork free, worry-free, and actually get what you want for once…a peaceful few moments of relaxation enjoying that smooth amazing elixir you love.
That's where the Amazingly Simple Wine Opener comes to the rescue!
It's so easy to use! Just 3 simple steps:
1. Pierce the cork with the needle
2. Pump air quickly into the bottle until the cork literally pops out
3. Slide the cork off the needle by pushing on the plastic round guides
You could be less than 10 seconds away from enjoying your bottle of wine.
The best part?  No cork will ever break again!  No more floating bits, no cheap corkscrews breaking off in the bottle.
Just pure amazing wine, every single time.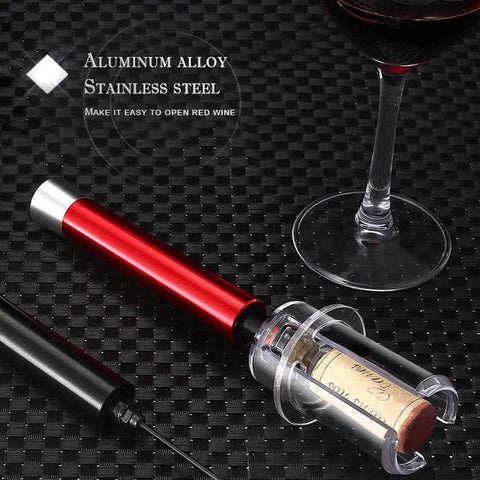 Click the big Add To Cart button above to snag the Amazingly Simple Wine opener for yourself and a second for a friend or loved one and save their wine opening sanity too. ?
P.S. Don't forget when you get 3 or more your 3-5 day shipping is on us!
Please Note:

Please be cautious not to overpump when using.  Though we guarantee the quality and integrity of our Amazingly Simple Wine Opener we cannot guarantee the quality and structural integrity of every bottle of wine.  Please do not use more than ten pumps per wine bottle.  Our opener inserts air into the bottle by its design, which will increase the amount of air pressure in the bottle.  In some extremely rare cases, a defective bottle may shatter if too much air pressure is applied.  When using please make sure to keep your hand supporting the bottle on the actual bottle and not on the plastic clear neck of the opener.
Shipping:
Free Shipping Worldwide: OVER 39.99 dollars.
We process orders between Monday and Friday. Orders will be processed within 2 business days of ordering and shipped out the next day after the processing day. Please note that we don't ship on weekends.